What is BillPay?

BillPay is a quick & convenient way for you to pay all your bills from one secure website. Just imagine–no more handwriting checks or envelopes, buying stamps. It's as simple as going to eBanc on www.baylake.com, logging into your BillPay account, and paying your bills at your convenience!
How Do I Subscribe?

Subscribe to Baylake Bank's BillPay service with the Enrollment Form available on eBanc:

1. Click on the Checking account
2. Click the "BillPay" button above the checking account information
BillPay Fees

BillPay will be offered free of charge to customers who make a minimum of one BillPay payment per calendar month with unlimited monthly transactions.
Inactivity Fee: $4.95 monthly fee. BillPay accounts without activity for more than a calendar month will be assessed a $4.95 monthly fee.

Other fees will be presented before they are assessed so you will have the opportunity to decide whether to continue selecting that service. Those fees include:

Overnight Checks - $14.95
Same-day Payments - $9.95
Popmoney Person-to-Person payments - 50¢
Questions?

BillPay Customer Service can be reached at 1-800-877-8021 between the hours of 6:00 AM - 12:00 AM CT, 7 days a week.
Baylake Bank | 217 N. 4th Avenue, Sturgeon Bay, WI 54235-2405
(920) 743-5551 or (800) 267-3610
Copyright © 2015 Baylake Bank. All rights reserved.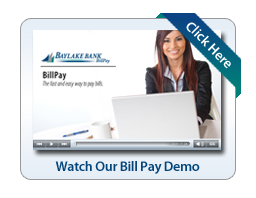 Pay all your bills online.
Sign up now and simplify your life every month.
Schedule payments in a few clicks

Save time and money right away

Make safe and secure transactions

Popmoney - Pay a Person by email or a mobile phone.

eBills - Choose to receive some bills electronically